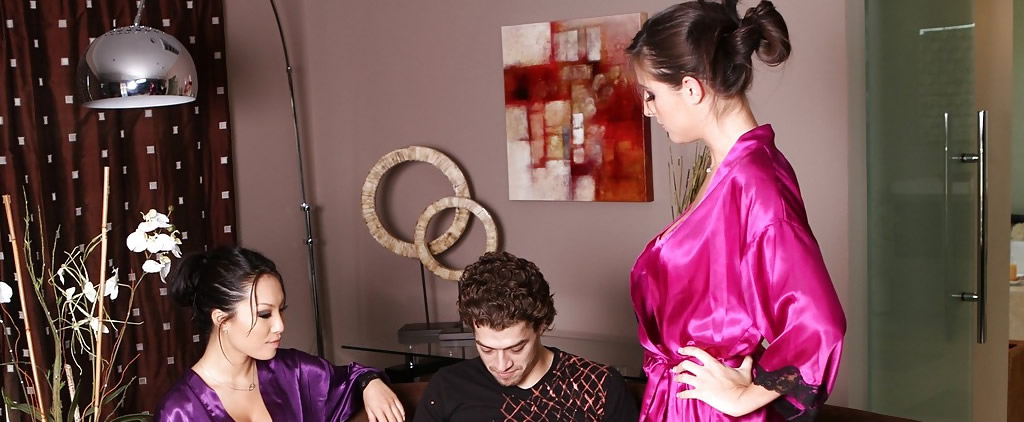 If you've ever had an erotic Asian massage before, then you'll know exactly how unforgettable they are. That feeling of a beautiful Asian masseuse gently caressing, pressing and stimulating you in all those intimate places – it's a truly wondrous experience. But have you ever tried a 4 Hands massage? Instead of one girl touching you, you'll have two!
Our premium 4 Hands massage service is designed specifically for your needs so you can have the ultimate experience. We even offer a mobile outcall service for your discrete convenience. Just pick the two masseuses of your dreams (choose from any of our Chinese, Japanese or Korean girls) and they can be there within the hour. Imagine coming in from a long day at work and not one but two stunning Asian girls turning up at your door, eager to please you. Talk about having a night to remember!
What Can I Expect From a 4 Hands Massage?
A 4 Hands massage is exactly what you think: a massage involving two sets of hands instead of one. Double the hands, double the fun! An erotic Asian massage is already an intensely pleasurable experience on its own, but 4 Hands takes it to another level. Imagine doubling the sensation and doubling the pleasure. Our 4 Hands massage will be an experience you'll never forget.
Massage therapy is well known for being a great way to relieve stress. Erotic massage techniques are even more effective than traditional, because they also focus on releasing sexual energy (as well as life tension) and the combination leaves you in a deeply satisfied and fulfilled state. The powers of erotic massage are unrivalled, but imagine doubling all that with two pairs of hands touching you instead of one. Two pairs of hands can do everything one pair can and more. Two pairs can reach more areas at once and stimulate all those hidden places, taking you to the ultimate paradise.
All of our stunning masseuses are highly trained in the erotic arts and can whip your mind into a whirlwind of desire with just a sensual brush of a hand (or two pairs). Let us take that weight off your shoulders and help you release the stressful tensions.
What 4 handed massage style do you offer in London??
When you try our 4 Hands massage service, you can choose from a wide variety of massage styles. For an interestingly memorable twist, you can even mix and match styles.
Get up close and personal with this massage. A body to body massage involves full body contact, with your masseuses rubbing their oiled bodies against yours to achieve ultimate gratification.
Erotic
Your masseuses will stimulate your body and encourage you to release your trapped sexual energies. Get ready for an explosive release.
A massage designed specifically for men, a lingam focuses on intense excitement of the penis. Just lie back, relax and let your masseuses take you on an electrifying ride.
Also known as the 'body slide' massage, this massage involves slippery, sexy full body contact. Your masseuses will grind and slide their bodies all over yours. This therapy is said to be even better than sex, so prepare yourself!
This therapy involves stimulation of the prostate gland and male G-spot. It's intensely pleasurable and satisfying.
Sensual
Involving deep arousal of the senses to stimulate the body, your masseuses will take you on a journey of pleasure.
If you're looking for raw pleasure, look no further. Tantric is the ultimate erotic massage. Your masseuses will mould your body and senses to surrender to the sensations. Experience the ultimate release.
What's included in our 4 hand service?
 Hands instead of 2
Choice of 2 sexy Asian masseuses
Relaxing full body massage
Choice of sensual or erotic Asian massage style
Ultimate pleasure and excitement
Double the sexiness, double the playtime
1 hr+ massage session
Happy endings
24 hour bookings available
Block booking discounts available
We endeavour to give you the experience of a lifetime for the best price and quality of service. All of our masseuses are highly trained in erotic Asian massages, but if you are ever unhappy with your experience, please let us know and we'll be happy to help.
We respect the need for client confidentiality so once your booking has been made, all your personal and contact information will be destroyed. This also applies to payments, so we only accept cash.
To ensure your desires and fantasies are always fulfilled, our services are available 24 hours a day and seven days a week. We will always be a click of a button away. To make a booking or to find out more information on our services, please contact us using the details below.